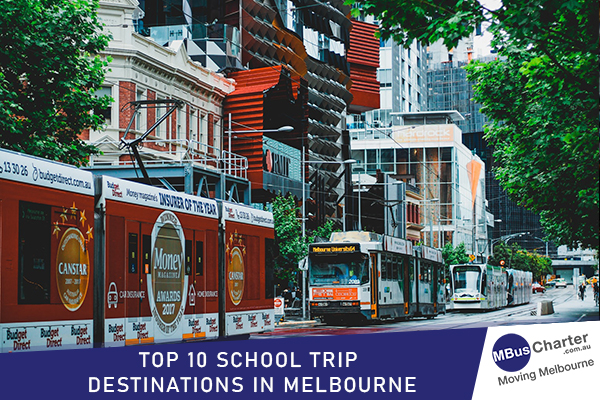 Melbourne is special in so many ways. It has something nice for the young, the old and all the generations in between. All you need to do is set aside funds for
bus hire in Melbourne
to see what the city has to offer. Do the same too if you're a teacher thinking about where to take your class for a trip. The city is awash with so many destinations that can offer real and valuable learning experiences designed to complement what children learn in class. Have you been to these destinations in Melbourne with your students?
The Shrine Of Remembrance
The Shrine Of Remembrance guarantees a learning experience to both children and adults. It provides valuable insights into what life was like for Australians who fought in the First World War. Located at Birdwood Avenue, The Shrine provides a perfect opportunity for students to take part in programs that encourage remembrance of the sacrifice made by Australia's courageous war heroes and heroines. It gets better with the fact that students who visit the Shrine are always given a chance to take part in a commemorative service.
The Melbourne Museum
Melbourne Museum attracts both local and international students for pretty much obvious reasons. It explores and showcases several aspects of Melbourne City and Australia as a whole. Students get a chance to learn more about Victoria's flora and fauna, history and nature. The museum also boasts of eight world class galleries with one that is designed just for children. Do not leave without allowing your students to catch up one or two documentaries at the museum's onsite IMAX Theatre. This explains why Melbourne Museum is an award-winning attraction known across Australia and beyond.
Mornington Peninsula Tours
Locals refer to the Mornington Peninsula as Melbourne's holiday playground. That description fits the destination like a glove. Allow your students to take a break from everyday lessons just to enjoy breathtaking views from Arthur's Seat peak over the bay. Let them play on white sand along the beach as they collect sea shells. There's also the awe and splendour that Mornington farms and vineyards guarantee. Your students will have a chance to wander through well preserved strawberry fields of The Sunnyside Strawberry Farm as they pick berries. Feel free to arrange for your group to take lazy strolls at the pristine and tranquil Portsea back beach before settling down for sumptuous lunch at a café al-fresco. There's so much to see and do here, you will probably have to set aside a whole week to explore everything Mornington Peninsula has to offer.
Great Ocean Road Tours
Talk of sightseeing in Melbourne and Great Ocean Road springs up effortlessly. Your students will have a chance to enjoy the stunning scenery that makes up the Great Ocean Road. There's a guided tour around Great Otway National Park which boasts of a large rainforest. This presents a unique opportunity for students to learn more about plants and animals. There's also Port Campbell National Park where students can wonder at iconic and mind-blowing rock formations as they learn about geography.
Don't forget to drop at Bells Beach to learn a thing or two about surfing and appreciate this popular and internationally renowned surfing spot. There are other attractions too along The Great Ocean Road where you can have a good time with your students. There's the London Bridge, 12 Apostles and Ard Gorge which guarantee unique learning experiences for children.
Sovereign Hill
Sovereign Hill is perfect for history lovers. The location perfectly captures what life was like in the 1850s. Your students will enjoy guided tours as they visit historic places of rebellion and revolt that saw the rise and rise of democracy which in turn, saw the emergence or democracy at Hill and Eureka.
Word went around in the 1850 that the region here was rich in gold. It wasn't long before people from all over the world flocked Ballarat, as it was then known, looking for gold. There was no gold of course, but there was something even better – Australia! Eventually, many of those who came looking for gold decided that Australia wasn't that bad of a place after all. So they stayed along with their friends and family. Years later, the families they had left behind in search of gold followed them and stayed. Your students will learn all about this and more from tour guides with a deep understanding of what exactly happened in 1850 around Sovereign Hill.
Royal Botanic Gardens
It is yet another perfect destination for a school trip especially when you want your children to learn more about the environment. The garden offers a stimulating and safe outdoor setting that will leave your students excited and eager to learn about flora and fauna. The garden keeps on getting better each year. It gets even better with the fact that the garden's management have made public their plans to develop adaptive and strategic curriculum-based programmes to assist education care givers have an easy time with students each time they visit the Royal Botanic Gardens.
Mount Buller Ski And Snowboard School
There's no harm taking a break from school and all school related activities every once in a while, to engage young minds in fun and games. That's where Mount Buller Ski and Snowboard School comes into the picture. It is an ideal spot for learners who want to see, touch and feel snow for the first time. That's not all though. The three-hour trip from Melbourne will give your students a unique experience as they enjoy breathtaking views of attractions that are along the road leading to Mount Buller Ski and Snowboard School.
There are trained instructors to help children learn, so you do not have to worry about child safety. Children can learn basic skiing and snowboarding rules here. The facility also provides a unique experience for children to socialize with other children who visit from other schools.
Melbourne Zoo
Unlike many zoos, Melbourne zoo has animals that live in their natural habitat. The zoo was actually designed for animal comfort first, then human visit second. Expect to see strange animal species that are exclusive to Australia. Expect your students to make friends too! The zoo has a special Wild Sea Exhibit where you can see seals and penguins up-close. Surprise your students with a trip to the zoo and have them ride a 19th century English carousel. The zoo is, in simple words, bliss!
The National Gallery Of Victoria
There aren't many galleries that have Rembrandt's original art pieces. So when you hear of a gallery that has his original works as well as other pieces by artists such as Tom Roberts, you know for sure you have to visit. The gallery is more than just perfect for art students. It stands out for other reasons too. Many do not know this, but it is Australia's oldest Museum. It is also located right in the middle or Melbourne.
Fitzroy Gardens
With a history that dates back to as early as 1848, Fitzory Gardens is should be up on your list of places you must visit with your students. It lies right on the edge of the City, so it is accessible. Think of it as the first place you should visit before heading to the other destinations. Expect to see trees that are 160 years old, still blooming. There's also an old ornamental lake, lots of happy locals and tourists and of course, yummy snacks sold around the park.
https://www.mbuscharter.com.au/wp-content/uploads/TOP-10-SCHOOL-TRIP-DESTINATIONS-IN-MELBOURNE.jpg
400
600
Mbus
https://www.mbuscharter.com.au/wp-content/uploads/M-Bus-Charter-Logo-300x150.png
Mbus
2019-03-27 05:23:00
2019-09-16 03:37:22
Top 10 School Trip Destinations In Melbourne