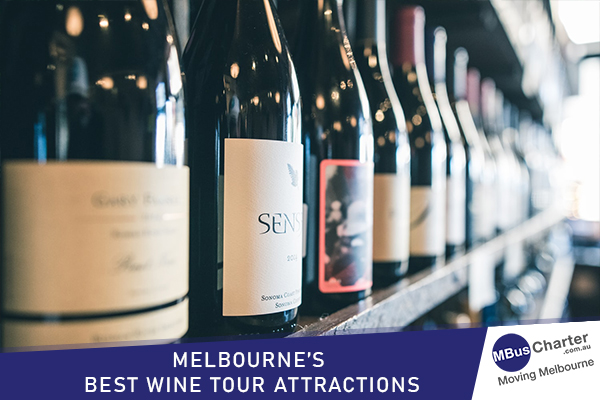 Escape from the hustle and bustle in Melbourne CBD and go straight to scenic vineyards that blanket the city! Explore all the five regions outside Melbourne that offer special blends and twists unique to their climates. Each region has something special to offer complete with tours that will redefine what you know about wines and vineyards. To make the most out of these wine experiences, consider
bus charter in Melbourne
.
Understanding Wine Regions in Melbourne
Pinot noir, shiraz and chardonnay varieties dominate the four regions that make up Melbourne's wine belt. The four regions, Yarra Valley, Geelong, Macedon and Mornington Peninsula, are known for producing some of the most popular wine brands in the world. The unique geographical features and climate that define these regions combine to create unique types of wine that are distinct as the wineries behind them.
Yarra Valley
From rustic tin sheds tucked inside vines to architectural statements that have managed to stand the test of time over decades, Yarra Valley is simply a haven. It boasts of a scintillating range of cellar doors, lush greenery and juicy grapes all reflecting the diversity of styles in this one of a kind cool climate region which is just a stone's throw from Melbourne.
Experience new vintage cool climate masterpieces from more than 70 wineries around Healesville, which is one of Yarra Valley's most popular towns. Head further north towards the picturesque village of Marysville where other wineries wait for you. Further north towards other villages lie beautiful vineyards and wineries tucked into the charming hill country around Hurstbridge, Kangaroo Ground and Nillumbik.
Your tours will be incomplete without visiting Zonzo Estate. It is surrounded by 45 acres of vines, luscious lawns and flowery fields that blend to make picturesque views. The traditional Italian custom of shared meals around a table becomes alive here. Some of the estate's popular wines include Cabernet Sauvignon and Rose.
Mornington Peninsula
Gloriously green hinterland and pristine beaches define Mornington Peninsula. Home to more than 50 boutique cellar doors, the region is just one hour away from Melbourne CBD. Tour the region and interact with peninsula vintners who will tell you all you need to know about the all-time popular Pinot Noir as well as the celebrated Chardonnay. They'll also let you in on best kept secrets of newer and fresher regional varietals such as Pinot Gris, Shiraz and Pinot Grigio. Be sure to set aside a whole afternoon of wine tasting with a meal to remember at one of Mornington Peninsula's restaurants such as Montalto, Paringa Estate, Phillip Estate or Ten Minutes By Tractor.
Visit around June to celebrate the Queen's Birthday in style and join the locals in the excitement that comes along with Winter Wine Weekend. You can also take time to visit cellar doors within and around Red Hill and sample more than 200 premium wines from 50 different wineries. Taste different varieties of wine around this region which can easily be described as both compact and diverse. Topography, climate, soil and land structure create unique micro-climates around the hinterland villages of Main Ridge, Red Hill, Dromana, Balnarring and Merricks.
Geelong
Make the most of your wine tours in Melbourne by exploring Geelong's diverse sub regions from volcanic plains to surf coast which make the region's landscape, food and wine resist the 'cool climate' label. This is the only region where you can taste varieties that feature subtle European styles such as Shiraz and Chardonnay. It is in simple words, perfect for wine lovers.
Note that Geelong as a region has a history that dates back to 1800. Much has changed since then. The entire region has undergone a renaissance in the last few years as winemakers discover new soils and ways of maintaining vineyards. It gets better with the fact that Geelong's weather is a halfway between France's Burgundy and Bordeaux.
More than 40 cellar doors call Geelong home. Nearly all of them are open throughout the week for tasting and sampling different wine varieties. Wineries here have restaurants and cafes, allowing you to relax and unwind as you enjoy the scintillating scenery with sumptuously cooked meal accompanied by perfectly matched wine.
Don't leave without visiting Basils Farm, where you can learn more about the farm's love and passion for fermented wine. You can also enjoy tastings of sparkling handcrafted wines such as Sauvignon Blanc, Pinot Noir and Prosecco. For more fun, indulge in antipasto platters as you sample as selection of sweet house made seasonal dishes.
Then there is the Jack Rabbit Vineyard, which guarantees unrivalled views across the bay that leads to Geelong. Experience sumptuous and delectable food here and take a guided wine tasting tour as you sample a diverse stable of award winning and sophisticated cool climate wines like Blanc De Blanc, Riesling and Moscato.
Macedon Ranges
Imagine an authentic, intimate wine tasting journey that is less than two hours from Melbourne. That's what Macedon Ranges have to offer. Leave your city worries behind and set off with your friends to the misty valleys that make up Macedon ranges. You'll fall in love with everything here from lush elevated plains, bucolic landscapes that make up the wine region and rocky outcrops that will leave you speechless.
There's so much to see and do here. Start your wine tour at Captains Creek Organic Wines. It is an 80-hectare farm with a history that dates back to 1909. Four generations of The May family have run the farm. Taste different varieties of wine with delicious lunch served every Saturday and Sunday. Grab a table on an expansive veranda that overlooks the countryside. It is a perfect summer plan. Colder months are taken care of too. Sit with friends by the fireside as you enjoy wine. Don't leave without trying popular plates laden with a selection of local delicacies like salami, hot chorizo and Istra prosciutto.
https://www.mbuscharter.com.au/wp-content/uploads/MELBOURNE'S-BEST-WINE-TOUR-ATTRACTIONS.jpg
400
600
Mbus
https://www.mbuscharter.com.au/wp-content/uploads/M-Bus-Charter-Logo-300x150.png
Mbus
2019-03-18 07:27:59
2019-09-16 03:53:39
Melbourne's Best Wine Tour Attractions