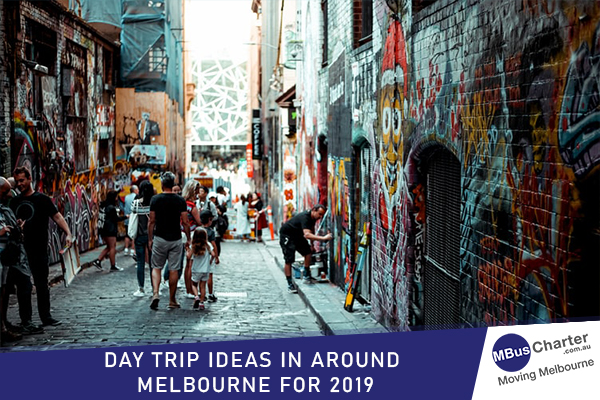 There's no doubt about it. Melbourne is perfectly planned for day trips. An hour or two out of the city will have you walk through ancient rainforests, snapping penguins up close, feeding koalas or admiring world class art. There's simply so much to do and see in and around Melbourne. Throw in charming seaside towns, restaurants with locals and international cuisines, a 100-year-old steam train and you have more than enough reasons to take a break and head out of town. You don't have to worry about transportation. Book
coach hire in Melbourne
and take a trip to any of the following destinations!
Daylesford
Daylesford lies just 90 minutes away from Melbourne. It boasts of a scenic Central Highland Setting blended with a healthy dose of style, so you can easily soak up the delights of what this small enclave offers. Highlights here include soaking in mineral rich waters, lunch at Lake House which is one of the best regional restaurants and a guided tour at the atmospheric Convent Gallery. Finish the day with a relaxing massage or spa at the Hepburn Bathhouse and Spa before heading back to Melbourne.
The Great Ocean Road
The Great Ocean Road is best explored with friends over a couple of days. However, you can still take advantage of the eastern end route if you have just a day off. This will take you 90 minutes at most. You'll find Torquay, which is one of the most popular surf towns in the world. The town is in fact, home to Quicksilver and Rip Curl surf wear labels. 45 minutes down the road ushers in Lorne, another charming seaside town popular for its vibrant arts scene. Visit Qdos Arts here or walk along a 1-kilometre beach with white sands and turquoise blue waters. Grab some lunch before heading to the Twelve Apostles, which is The Great Oceans Road's most famous site. There is also Loch Ard Gorge which is just a few minutes away from Twelve Apostles. It is worth visiting before heading back to Melbourne.
Yarra Valley's Wine & Wildlife Exploits
There's much more into Yarra than just wineries. Your first stop as you head to the wine valley, Coombe is just an hour away out of Melbourne. It is a historic house complete with well-preserved heritage gardens. The house was formerly owned by Dame Nellie, Australia's first international opera star. From here, it's a quick, quiet and pleasant drive to Domaine Chandon which is considered by many as a premier producer of sparkling wine. Sample the bubbles and grab something to eat then head on to Healsville Sanctuary to encounter Tasmanian tigers, koalas, kangaroos, lyrebirds, platypus and wombats. You can also visit the TarraWarra Art Museum which has an interesting collection of acclaimed Australian artists like Brett Whiteley. Innocent Bystander and TarraWarra Estate also offer wine tasting experiences just in case Domaine Chandon leaves you asking for more.
Phillip Island
Set off early with your friends to San Remo and reach the town before midday to watch feeding of pelicans and stingrays. The drive should take you less than two hours. Cross a bridge from San Remo to Phillip Island where more magic waits for you. Take a lazy stroll around the rugged Cape Woolomai which will leave you baffled with its striking pink granite cliffs, clean air and a golden sweep of sand.
There's something for motorsport lovers here too. Visit the Grandprix circuit which hosts the Motorcycle Grand Prix each year in October. Take a guided tour of the facility or do laps with professional drivers. Grab something to eat at Harry's on The Esplanade before taking an eco-cruise to admire Australia's most popular fur seal colony. Wind up the day at the Penguin Parade where you can watch hundreds of penguins come ashore to play at Summerland Beach after a whole day of swimming in the sea.
Mornington Peninsula
Superb wineries, pretty seaside villages and a host or restaurants make the Mornington Peninsula. It is an amazing year-round destination which lies just an hour away from Melbourne. Take the inland route which will also lead you to the McClelland Sculpture Park and Gallery where you can see more than 100 works by some of Australia's most respected artists. From here, take time to explore the area's celebrated wineries known for Chardonnay and Pinot Noir wines. Several wineries here like Ten Minutes By Tractor and Monalto also boast of acclaimed restaurants that stand out as great options for lunch. Be sure to also explore historic seaside towns like Sorrento and Portsea which feature well preserved heritage buildings with rich histories. From Sorrento, enjoy a ferry to yet another charming and inviting town of Queenscliff.
Dandenong
Glorious gardens and tall forests here offer a perfect escape from the city. It will take you just an hour from Melbourne CBD to get here. You can then start your adventure from the National Rhododendron Gardens, a one of a kind expansive garden that covers 104 acres. It is filled with cherries, rhododendrons and camellias. You can then drive to the nearby Kallista where Grants Picnic Ground awaits. It is a scintillating 6.6-kilometre circular walk in Sherbrooke Forest that never disappoints. Enjoy walks through tranquil fern filled gullies where kookaburras and cockatoos call home.
Royal Botanical Gardens
It isn't outside Melbourne; it is right in the middle of it! Its location alone makes it an ideal choice for all those who do not wish to drive out of town for an adventure. Pack yourself a picnic starter pack- some wine, cushions and a blanket then head out to the garden to enjoy the lush greenery and colourful flowers that makes it up. Bring your Frisbee too and some music! This is by all means a perfect plan for spending your day within the city without having to spend so much. It is also a perfect idea for bringing together friends, family, and colleagues.
https://www.mbuscharter.com.au/wp-content/uploads/DAY-TRIP-IDEAS-IN-AROUND-MELBOURNE-FOR-2019.jpg
400
600
Mbus
https://www.mbuscharter.com.au/wp-content/uploads/M-Bus-Charter-Logo-300x150.png
Mbus
2019-04-04 08:37:33
2019-09-16 03:52:58
Day Trip Ideas In Around Melbourne For 2019