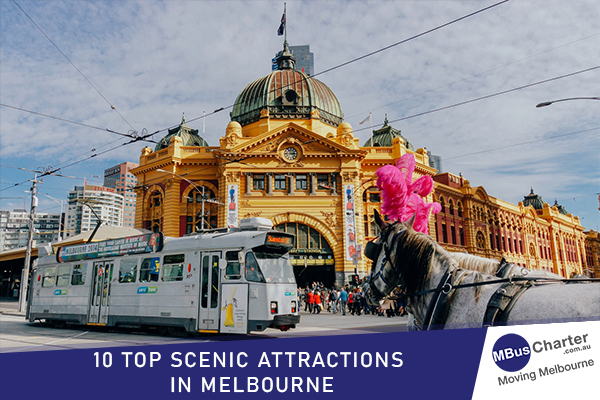 Melbourne has been described as many as a 'quiet paradise' but it is also a charming coastal metropolis with an indelible cosmopolitan vibe. Many consider it as Australia's cultural capital for pretty much obvious reasons. Full of friendly locals and foreigners from all over the world, there is no way Melbourne will sweep your expectations under the carpet if you're visiting for the first time. Here's a list of 10 scenic attractions you should consider visiting. Book
minibus hire with driver in Melbourne
for your transportation, especially if you are travelling in a group.
Hosier Lane
Add some local flavour to your Melbourne experience by visiting Hosier Lane. The lane features a beautiful stone pathway lined with walls that act as canvasses. Each wall is decorated with different forms of art from hastily drawn sketches and graffiti to murals and mind-blowing calligraphy. Take a guided tour or grab a camera and explore the lane with friends. The art installations and graffiti covered walls have become a popular backdrop for wedding and fashion photography.
St. Pauls Cathedral
Granted, Melbourne may not match Rome and London as far as grand, opulent and ancient churches that were thoughtfully built with intricate architecture are concerned. But even in its relatively young history, Melbourne has managed to measure up to some of the best architectural designs in Europe with gothic style cathedrals of its own.
St. Patrick's Cathedral located just minutes away from Federation Square, and it boldly stands out as one of Melbourne's most notable landmarks. It was designed and built by the all-time popular English Gothic Revival Architect William Butterfield was back in 1891. It boasts of the world's second highest Anglian spire, which is yet another reason why you should visit the church. Step inside the church to be blown by the interior intricate décor that makes the church special. Tour at night too and be blown away by how the church gets lit. It is in fact, one of the most photographed spots not just in Melbourne but in entire Australia.
Eureka Tower
Think of it as a smack dab right in the middle of Melbourne. It is the city's tallest observation deck, which makes it a popular spot for photographers. It is a spot worth visiting especially if you want to enjoy and savour panoramic views of Melbourne. That's not what makes the tower special though. Get whisked to the 88th floor in less than 40 seconds! Again, that's not all. You can choose to enjoy viewing from the Skydeck or The Edge. The latter option is not for the faint hearted. Made of a clear glass square, it guarantees unparalleled views of Melbourne from every angle.
Royal Botanic Gardens
Think of the garden as a hidden enclave where nature stands out in all her glory. Everything here is pristine. Expect a royal experience like the name suggests. The garden is simply a paradise of sorts with lush greenery all over, hints of colourful flowers and patches of crystal-clear waters. Take time to stroll along the popular Australian Forest Walk as you admire the flora and fauna that make up the garden. There are guided tours for those who wish to know all about the garden. There's also an ornamental lake on which you can enjoy a boat ride as you see the garden from a new perspective. It is almost as if the garden was built to perfection.
Royal Exhibition Building
Constructed in 1880, the building was Australia's first Federal Parliament. The main hall still stands strong with its signature dome shaped roof. Incredible galleries, breathtaking furnishings and mind-blowing architecture from the 19th Century make the building a marvel. You can certainly take some Instagram-worthy photos here against the scenic backdrop!
Bar On A Starling
This one-of-a-kind Ponyfish Island bar is a perfect example of Melbourne's genius when it comes to smart ways of using small space. It literally sits in the middle of a river, so you have all the reasons to see it and even enjoy a drink or two with your friends. That's not all. You can enjoy spectacular views of the city especially at night when the bar takes another form of life and becomes lively with locals and tourists flocking in to enjoy drinks and enjoy music.
Phillip Island
Crown your Melbourne experience with a visit to Phillip Island. Then head to The Nobbies. Splendid views stretch for miles from this splendid headland. Enjoy breathtaking coastal viewing from beautiful boardwalks and various lookout points strategically set in the middle of natural sea bird gardens. Take time to enjoy scintillating views along Phillip Island's rugged yet alluring south coast. The island can simply be described as paradise.
Levantine Hill
Levantine Hill is a combination of two sites that ride from 75 all the way to 225 metres above the sea level. Everything here looks and feels magical, from the views and the weather all the way to the locals and the food. The first site is a beautiful vineyard along the banks of Yarra River which has been producing grapes since 1995. The second site is home to the ever beautiful and ever magnificent Homestead. But that's not all. The site also takes in blocks that fan out one of the highest hills in the Yarra Valley Region. Words cannot capture the scenic views here. You just have to see it to believe it.
Pietro Gallo Estate
It is a stunning winery, restaurant, distiller, cellar door and an events destination tucked in the rolling hills of Warrandyte. The owners here have managed to create a little piece of Italy just 50 minutes away from Melbourne CBD. Breathtaking views of sun drenched olive groves and rows upon rows of citrus trees greet you as you enter the estate. Then there is the estate's signature restaurant, Olivigna which is perfectly nestled within alluring greenery that define the estate. The restaurant boasts of a paddock to plate approach where traditional Italian genius meets modern Melbourne techniques to give you a memorable taste after enjoying spectacular views around the estate.
Docklands
Docklands is a popular waterfront suburb of Melbourne. Now a business centre and technology park, the suburb was once known as West Melbourne Swamp. It boasts of not just one or two but many scenic attractions. Visit the suburb to discover some of the strangest urban art sculptures like The Cow Up A Tree, take snaps of the iconic Jim Stynes Bridge or ride The Melbourne Star which is to Melbourne what the Singapore Flyer is to Singapore. It is a giant Ferris wheel at the Docklands which turns into something to marvel at each night with colourful display of lights that illuminate the air around it. The lights trace the wheel's star shape to form an amazing display. It also gives you a full aerial view of Melbourne during the day. Note too that it is one of the 10 biggest Ferris wheels in the world.
Sunset At Central Pier
You can enjoy beautiful views of the sunset from anywhere in Melbourne; but when it comes to Central Pier though, the sunset simply becomes stunning. Add the bright orange of the sunset to sparkling and glistening waters of the river together with colourful boats and the pier becomes so serene you'll want to capture the moment and bag it for eternity. Keep in mind that about this time, jellyfish migrate, so you can have fun taking photos or simply counting them as they glow in the river migrating.
https://www.mbuscharter.com.au/wp-content/uploads/10-TOP-SCENIC-ATTRACTIONS-IN-MELBOURNE.jpg
400
600
Mbus
https://www.mbuscharter.com.au/wp-content/uploads/M-Bus-Charter-Logo-300x150.png
Mbus
2019-03-15 04:17:35
2019-09-16 03:53:57
10 Top Scenic Attractions In Melbourne