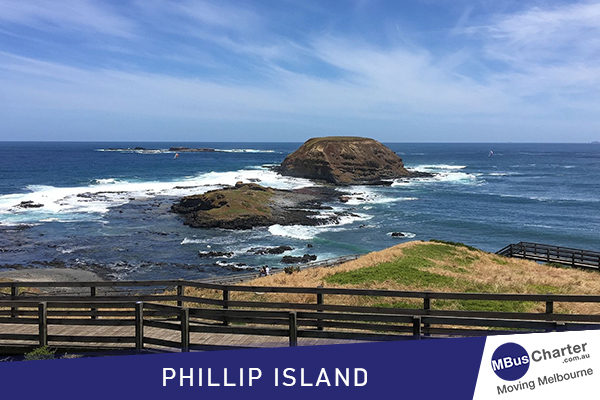 Phillip Island is the most popular tourist attraction in Melbourne, Australia. The island lies about 140 km from Melbourne. It has endless coastline and magnificent wildlife to explore. It is a place which offers something for everyone.
Watching the Penguin Parade should be on top of your list. Every night at sunset, you can see the Penguins returning ashore after a day's fishing. They offer plenty of educational and interactive activities. The Penguins Plus viewing platform overlooks the most popular pathway at the Penguin Parade that offers excellent penguin viewing. Enjoy a close indoor view of the Penguins in their natural habitat through an underground viewing window. In the Penguin VIP tour, you will get to interact with a ranger and assist in the penguin count. The Ultimate Penguin Tour operates in a small group. It offers a more personalised experience.
Koala Conservation Centre is a must-visit the place on Phillip Island. Here you will see Koalas in their natural habitat. They offer some marvellous family-friendly activities. They have two treetop boardwalks that are perfect for Koala viewing. Both are easy to finish and takes up to 20 minutes. You will encounter wallabies, echidnas and colourful native birds while wandering on trails.
Your visit to Phillip Island is incomplete without going to A Maze' and Things. The place is full of optical illusions, mazes, puzzles and magic that is fascinating and entertaining for adults and children alike. Inside you will find Illusions Rooms, a Mirror Maze, the Rotating Room, and the popular LookOut. It is home to Australia's biggest three-dimensional timber maze. There are playgrounds, picnic areas and barbeque facilities for those wanting a more relaxing time.
Experience the thrill of Go-karting to a high speed at Phillip Island Circuit. Take a guided tour of the circuit that includes access to trackside areas such as the control tower and media centre. Check the calendar and be a part of major motor sporting events like World Superbikes and Moto GP.
Explore Victoria's history and heritage at Churchill Island. This tiny island of 57 hectares is now accessible to the public as a historic working farm. It consists of world-class wetlands, ancient Moonah trees, heritage gardens and historic buildings that have significant cultural and natural values. Check out the exhibition at the visitor's centre.
Nobbies centre is a perfect place to enjoy a mindblowing view of Phillip Island. It is open every day from 11 am to an hour before sunset. It is only 5 minutes away from the Penguin Parade. Strolling along the boardwalk and enjoying the unusual view of the coastline of Phillip Island are the favourite things to do here. If you are visiting Spring, you will get to see the gardens full of colours. During summer you can see Silver Gulls and their chicks. Walk to the Blow Hole, it is a sea cave that produces crashing sounds with high, southbound swells. Just for Pups is a playroom designed especially for kids.
https://www.mbuscharter.com.au/wp-content/uploads/Phillip-Island-1.jpg
400
600
Mbus
https://www.mbuscharter.com.au/wp-content/uploads/M-Bus-Charter-Logo-300x150.png
Mbus
2019-08-05 03:24:25
2019-09-16 03:52:02
Phillip Island